The exhibition, whose opening is scheduled for 11th of August this year, will bring together a large number of significant artists and their works from BiH, region and the world. Concept of the exhibition is to present the authors who have previously exhibited or are in some way part of the Charlama's art network
Great International Exhibition of Contemporary Art CREATORS will be opened on August 11th of August in Sarajevo. The Gallery of Contemporary Art Charlama, along with the renovation, is preparing an international exhibition which will be presented to the work of many significant artists from the contemporary art practice - works of leading authors from BiH and the region, with the participation of some of the notable names from Europe and the world. Curator of the exhibition is a Bosnian artist of international reputation Yusuf Hadzihejzovic, who for years, in addition to its own author works, is presenting contemporary world art tendency in BiH and region. His name is associated with the highest pre-war contemporary art event held in BiH "Yugoslav document", while in the period of 2007-2012. successfully led gallery Charlama whose work is rough decisions of the ex-management JPK Skenderija was interrupted in 2013's.

Gallery Charlama the period 2008 to 2012 was the epicenter of contemporary art practice in BiH and the region, and in a short space gained cult status in the cultural and artistic community in Sarajevo. It is exhibited or performed his work (exhibitions, performances, interventions in public spaces, video and film screenings, theatrical happenings, book promotions, etc.) tens of renowned artists from Bosnia and Herzegovina, the region and around the world, and about the activities in it wrote extensive number of international media (The New York Times, La Republica, Art Forum and others).

At the initiative of the Cantonal Minister of Culture and Sports Mirvad Kuric, new JP Skenderije of management to lead by Amer Kapo and CKA Charlama headed by film director and writer Jasmin Durakovic and Jusuf Hadzifejzovic, there was an agreement on the reopening of the gallery. Reconstruction galleries leads CKA Charlama and a group of artists of volunteers, while a leader in the production of paint and varnish JUB sponsor and partner of the project. The organizers of the exhibition and the team working with Charlama not hide no bitterness work of the Department for Culture of the Ministry of Civil Affairs BiH. The mission of this ministry is, they point out, just to promote artistic excellence that has international significance or more years, despite their regular applications for competitions of this ministry, they ignore the activities Charlama and its decisions favored mediocrity and further process provincialisation culture in BiH.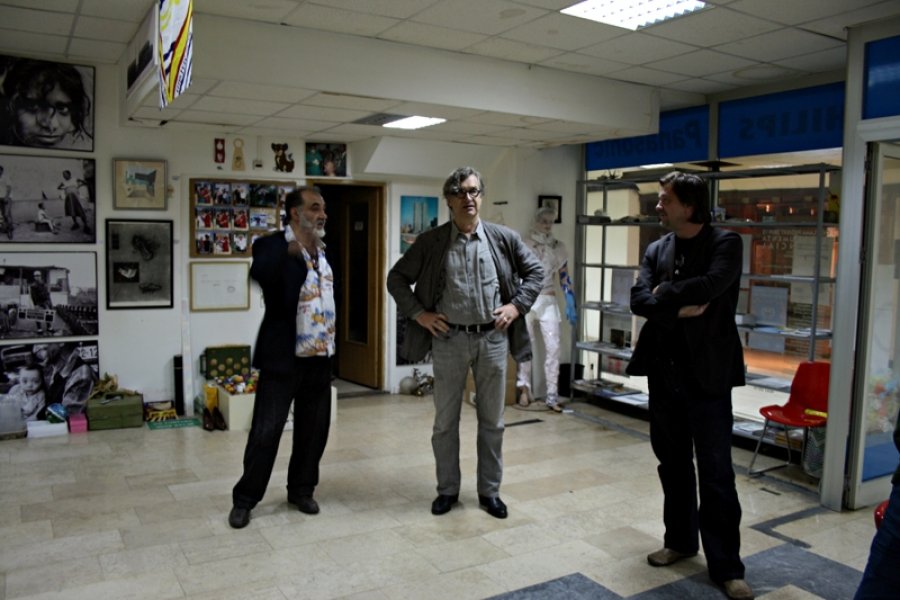 Film director Wim Wenders with Jusug Hadzfejzovic and Jasmin Durakovic in Charlama.
The artistic team behind this project has brought these days another decision - the official name of this area will be - Contemporary Art Gallery Charalma. On this way gallery wants to raise artistic standards to new and larger scale, while Yusuf Hadzifejzovic be the official curator of the program in the gallery.

Accoriding of information DEPO Portal, the first exhibition in the gallery will be CREATORS. The exhibition includes the works of the following artists: Aleksandar Sasa Bukvic, Sahin Sisic, Kemal Hadzic Alma Grain, Milomir Kovacevic, Uros Djuric, Dragan Sovilj, Eun Soo Lim, Mimmo Catania, Zlatan Hadžifejzović, Meliha Teparic, Dženan Hadzihasanovic, Daniel bow, Nela Hasanbegović, Adela Jusic, Andrea Dugandžić Jelena Jelaca, Nash Paripovic, Emir Mutevelic, Emina Huskic, Gordana Andjelic Galic, Emir Krajisnik, Radenko Milak Roman Uranjek, Danica Dakic, Maja Bajevic, Donata Wenders, Selma Salman, Muhammad Bajramovic, Nina Komel, Mila Panic Alma grind, Lana Cmajcanin, Goran Trbiljak Ivan Kozaric, Vlado Martek, Muradif Cerimagic, Fikret Libovac, Edo Vejselović, Sanjin Jukic, Aleksandar Dimitrijevic, Tulek Emir, Sven Stilinovic, Aleksandar Denic, Tajči Čekada, Damir Čargonja Charlie, Sanja Latinovic, Ana Jankovic, Sonja Djuranovic Roman Djuranovic, Azra Subasic Helga, Milija Pavicevic, Damir Niksic Dzenat Dreković, Damir Stojnic, Emir Kapetanovic, Christiana Biron, Zijah Gafic, Nebojsa Seric Shoba, Vladimir Dodig Trokut, Jasmin Durakovic, Yusuf Hadzifejzovic and works of authors who are no longer among the living: Dmitri Prigov, Mladen Stilinović, Sasa Markovic Microbe, Zeljko Jerman, Laslo Kereks and Andy Warhol.

Organizers point out that this is not the final list, while the concept of this exhibition is to present the authors who have previously exhibited or are in some way part of the Charlama's art network.

The exhibition will be opened on 11th of August, 21h, Contemporary Art Gallery Charlama, Skenderija.